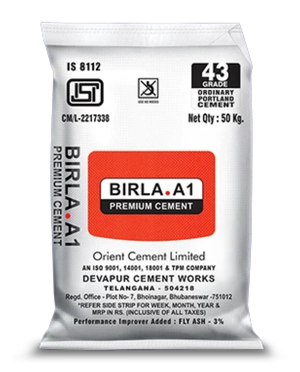 Birla A1
Birla A1 43 Grade Cement
Buy Birla A1 43 Grade OPC Cement at Low Price from Birla A1 Cement Dealers in Bangalore with Free Delivery. Birla A1 43 Grade Cement Price in Bangalore.
Originally named Orient 43 Grade Cement, it was amongst the earliest successes of Orient Cement paving the way for the others to follow. Manufactured under controlled process conditions deploying sophisticated plant machinery, it gained immense popularity in a short span of time and was instrumental in making Orient Cement a household name. The brand has now been integrated under our umbrella brand and rechristened as Birla A1 Premium Cement – OPC 43 Grade.
Key features
General purpose cement especially suited for pre-cast, pre-stressed RCC constructions
Suitable for sheet and pipes of asbestos/non-asbestos based products.
Suitable for general Civil Engineering construction works like buildings, bridges, roads etc.
Compressive strengths are much higher than the BIS Standards.