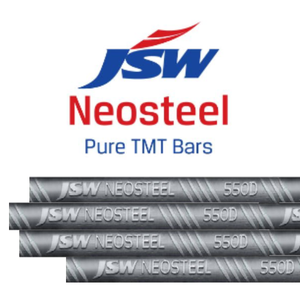 JSW NEOSTEEL
JSW Neosteel TMT
JSW NEOSTEEL TMT Steel is one of the trusted manufacturers of Fe-550D TMT Steel in India having a network of 150 Distributors & 3000 Dealers, they produce Earthquake resistant and High thermal resistant TMT Steels. 
JSW Steel TMT bars are branded as JSW NEOSTEEL. These bars are manufactured through primary production process to ensure purity and superior quality. The state of art and technical advanced bar rod mills for production are supplied from Danieli, Italy and Morgan, USA. JSW NEOSTEEL is toughened high strength HYQST (High Yield Quenched and Self Tempered) TMT Bar.

JSW Neosteel conforms to Indian, American, British and Australian Standards.It also meets specific customer requirements with a supply of customized products and ensures the availability of expert services in product application and end use. It is manufactured in Fe-500D grade, Fe - 550D, Fe - 600 and CRS grade.

Their design is apt for earthquake-prone zones and are more resistant to shocks due to a combination of higher strength and ductility. Its high UTS/YS ratio of 1.15 minimum ensures a higher energy absorption capacity.

JSW Neosteel, in a short span, has achieved an esteemed list of projects & customers which includes Delhi, Jaipur, Hyderabad, Bangalore and Chennai Metro Rail, Jaypee's Yamuna Expressway, Delhi and Mumbai International Airports and Power Projects to name a few.
Key Features
Pure Steel gives enhanced strength with durability
Best in class Rib Pattern with highest AR value that bonds best with cement
Consistent quality across the bar – HYQST ensures a uniform quality which can be seen as concentric rings in the cross-section of the bar
Earthquake resistant
Easy Weldability due to low carbon content
Anti-Corrosive
Easy Bendability due to inherent microstructure with soft ferrite and pearlite core
Higher Fatgue resistance for cyclic load conditions
Green Steel from Zero Effluent discharge plant


Specifications

Size
8-40 mm
Grades
Fe500D , Fe550D, Fe600 and CRS grade
Form
In Straight form; 8 & 10mm also available in coil form